How To Build An E-Commerce Business In Bangladesh With Effective Strategies
The development of and massive growth of e-commerce in Bangladesh have transformed the retail industry, changing how consumers purchase and how firms operate. The e-commerce sector in Bangladesh has grown extraordinarily over the last few years, far beyond any predictions. Many important elements have contributed to this incredible development.
The rise in e-commerce has been driven by technological advancements. A growing number of Bangladeshis now have access to the Internet because of the development of smartphones, inexpensive data plans, and improved Internet infrastructure. Online shopping and commercial transactions are more convenient thanks to the widespread use of high-speed internet and the rising adoption of mobile devices.
Moreover, the rise of e-commerce has led to a significant increase in cross-border trade. Bangladeshi consumers now have access to a wide range of international products through e-commerce platforms, and businesses can easily tap into global markets. This has facilitated trade and fostered economic growth by boosting exports and creating new business opportunities for local manufacturers and exporters.
In this blog, we will discuss some effective strategies to help you build a robust e-commerce business in Bangladesh.
Market Analysis And Niche Selection
Thorough market research is essential before entering the e-commerce sector. Recognize the competitors, consumer preferences, and market developments in Bangladesh today. Find a lucrative market segment with demand and expansion possibilities.
Think of elements like popular product categories, target market, and market gaps. For instance, the rising popularity of online shopping for food, electronics, and clothing offers profitable potential for e-commerce business owners. You can more successfully personalize your offerings to satisfy the needs of your target customers by concentrating on a certain niche.
Ensure User-Friendly Website And Mobile App
Having an accessible website and mobile app is crucial in Bangladesh, a nation that is fast going digital. Enhance the user experience by making your e-commerce platform easy to use and optimized for seamless browsing. The majority of online traffic in Bangladesh comes from mobile devices, so make sure your website is responsive to mobile devices.
To increase client confidence, incorporate functions like user evaluations, product suggestions, and secure payment channels. For users to find products fast, invest in a simple search function and filtering choices. Your platform may also be more accessible to a larger audience if it offers numerous language choices, including Bengali.
Streamlined Supply Chain And Logistics
Any e-commerce business must have an effective supply chain and logistics to succeed. In Bangladesh, where there are infrastructure issues, supply chain optimization is much more important. To guarantee a consistent supply of high-quality items, collaborate with dependable suppliers and bargain for reasonable prices. To ensure prompt delivery, cultivate good ties with courier and shipping businesses.
To simplify your warehouse and fulfillment procedures, think about hiring third-party logistics service providers. Put a focus on effective inventory management to prevent stockouts and overstocking problems.
Localized Marketing And Customer Engagement
Effective marketing requires an understanding and a connection with the local culture and consumers in a varied nation like Bangladesh. Create regional marketing plans that appeal to the target market. Utilize Bangladeshis' love of social media sites like Facebook, Instagram, and YouTube to expand their consumer base. Create intriguing content, contests, and promotions to interact with your audience.
To establish trust and contact potential clients, think about influencer marketing. To foster customer relationships and encourage repeat business, use email marketing. Additionally, providing individualized customer service in the local tongues can significantly increase customer loyalty and trust.
Secure Payment Options And Trust Building
Building trust is crucial for e-commerce companies in Bangladesh as consumers are concerned about online fraud and scams. Offer safe payment methods including mobile banking, cash on delivery (COD), and well-known digital wallets like bKash and Nagad. Cooperate with reputable payment processors to guarantee safe transactions.
Put in place effective cybersecurity procedures to safeguard client data and reassure them that their personal information is secure. To increase credibility, show client testimonials and trust marks on your website.
Continuous Adaptation And Improvement
Bangladesh's e-commerce environment is rapidly expanding. Continuous business improvement and adaptation are essential for maintaining competitiveness. To find areas for improvement, keep an eye on market trends, observe client behavior, and evaluate data.
Accept technology innovations like automated order processing and customer support, machine learning for personalized suggestions, and AI-powered chatbots. To maximize your e-commerce operations, keep up with the most recent e-commerce platforms and solutions.
Analyze your website's performance, user reviews, and sales data frequently to inform decisions and improve your tactics. Keep an eye on new trends, such as voice and social commerce, and determine whether they are appropriate for your company.
Collaboration And Partnerships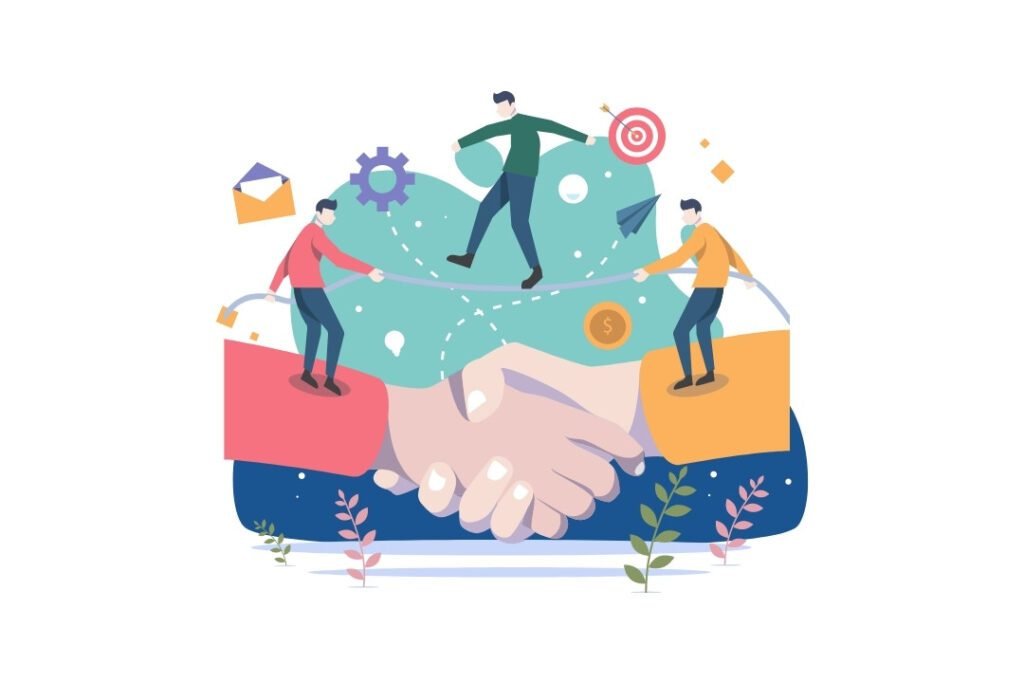 Your e-commerce business can gain a lot from partnering with related businesses and creating strategic alliances. Find possible partners who share your target market and organizational objectives, such as regional producers, suppliers, or influencers.
To reach each other's customer base, work together on co-marketing initiatives, cross-promotions, or exclusive product launches. Access to a broader consumer base and increased publicity can also be had by collaborating with reputable marketplaces or internet aggregators.
In order to network with important players in the e-commerce ecosystem, think about taking part in industry events, trade exhibitions, or online communities.
Customer Feedback And Reviews
Customer reviews are a great source of guidance for developing your online store. After a purchase, encourage customers to write evaluations and ratings. Actively track client feedback and react to it, taking immediate action to resolve any problems or concerns. Use user feedback to improve your website's functionality, product offerings, and customer service.
Positive comments and endorsements can strengthen your brand's credibility and act as social proof. Introduce a referral system or customer loyalty program to reward repeat business and motivate clients to tell others about your company.
In Bangladesh, creating a successful e-commerce company necessitates a blend of strategic planning, adaptability, and in-depth knowledge of the local market dynamics. You may build a solid basis for your e-commerce business by doing in-depth market research, developing a user-friendly platform, streamlining your supply chain, applying localized marketing methods, and giving credibility and customer happiness first priority. You can stay ahead in this ever-expanding market by constantly improving, utilizing partnerships, and listening to client input. Your Bangladeshi e-commerce company can prosper and have long-term success with the appropriate methods and a customer-centric mindset.
Also, for building an e-commerce business in Bangladesh owners should consider an industry-leading team who are dedicated to reaching the goal. Through an expert team or agency,  you can build or set up an eCommerce site easily and effectively.
Would you prefer to talk to someone?