Success Story: Elite Communication's Google Ads Campaign
Google Ads For a Local ISP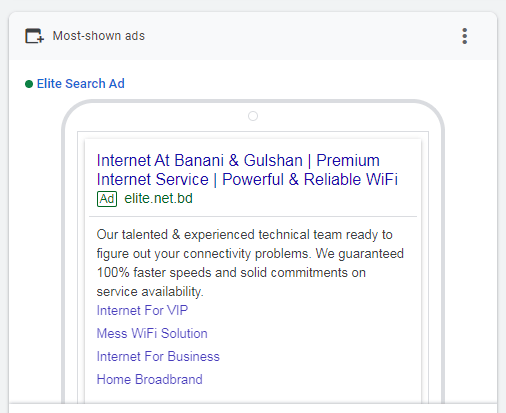 At Elite Communication, we take pride in being a distinguished provider of broadband internet services, exclusively catering to the super-premium client category. With a strong focus on delivering exceptional connectivity solutions, we embarked on a mission to enhance our online presence and drive organic traffic within our selective local area in Dhaka City. This case study offers an insightful glimpse into the challenges we encountered, the strategies we deployed, and the remarkable outcomes we achieved through an all-encompassing Google Ads campaign.
Our Google Ads campaign for Elite Communication yielded outstanding results, driving remarkable growth and delivering significant business outcomes. Let's explore the statistics that showcase the campaign's success.
Increased Conversions
Through meticulous targeting and compelling ad creatives, we witnessed a substantial increase in conversions, translating to a higher customer acquisition rate.
Ran this campaign to increase conversions and reached the number of 7,829 conversions. Compared to the first campaign we got 16.28% more conversion for the exact cost.
This image is  showing the report of increasing rate of conversions week-over-week.
Boosted Website Traffic
By implementing search ads and display ads, we successfully drove a significant influx of quality traffic to Elite Communication's website. This resulted in increased brand visibility and engagement.
This display ad was run to generate traffic to the website and conversions as well. And the first attempt for Elite was satisfying. Because we got 640 clicks where the conversion rate was 61.88%!
That was the first campaign, but what about now? The result of a single campaign speaks for itself. 
Enhanced Call Volume
Leveraging call ads enabled us to generate a substantial rise in phone calls from interested prospects, facilitating direct communication and fostering stronger customer relationships.
From January 1 to March 31 we got 1300+ calls! 
Elite Communication, a leading provider of broadband internet services, sought to amplify their online presence and drive measurable results through a Google Ads campaign. With a focus on targeted ad placements and compelling messaging, we aimed to attract and convert the super-premium clientele within the selective local area.
The Google Ads campaign for Elite Communication was strategically designed to achieve remarkable outcomes by pursuing a set of primary objectives. The primary objectives of the Google Ads campaign were as follows
Highlighted works for case